Cetco® Tablets - Bentonite Tablets 1/4", 3/8", 1/2"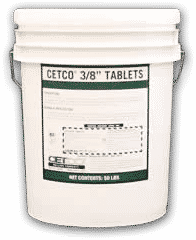 For forming a chemically resilient, low-permeability, flexible seal
Cetco ® Tablets are organic free, high-swelling pure sodium bentonite compressed into 1/4", 3/8" and 1/2" diameters tablets. Cetco ® Tablets isolate screened intervals of monitoring wells and provide an excellent seal for abandoned boreholes. The 1/4" tablets are ideal for tight annular spaces, while the 3/8" and 1/2" tablets are useful for larger boreholes. Cetco ® Tablets are certified to NSF/ANSI Standard 60, Drinking Water Treatment Chemicals – Health Effects.
Features:
Chemically stable
Permeability range of 1 x 10-7 to 1 x 10-9 cm/sec
Swells to 10-15 times their dry volume when hydrated with fresh water
Self-sealing; remains flexible when saturated and will rehydrate
Available in 50 lb. pails